In this Valhalla Supermassive review, we'll discuss a budget-friendly yet comprehensive reverb & delay plugin created by the Valhalla DSP company.
When I first tried it, I thought it was just a basic Delay. Still, while experimenting with it, I realized that this VST is quite versatile and can be used to generate a wide variety of intriguing effects, modulation, and deep spaces for musical expression. I frequently use Supermassive to produce interesting textures in sound design and create the farthest shots of the instrument and vocals.
Main controls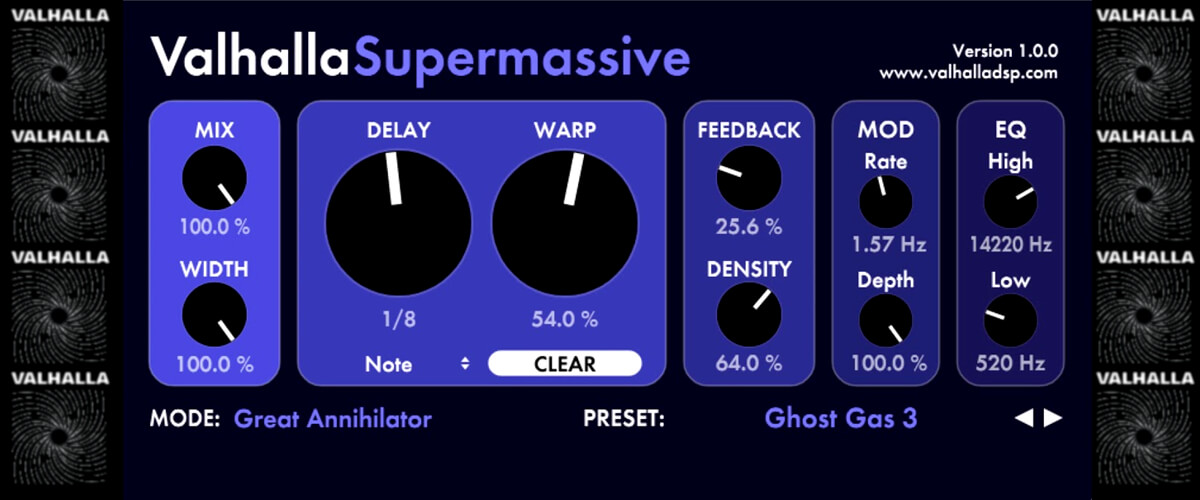 Valhalla Supermassive features a range of intuitive controls for creating unique soundscapes. Let's take a closer look at them:
The MIX control allows you to adjust the dry/wet signal ratio between the original signal and the delayed one, supporting more flexible mixing options. The WIDTH determines how wide the stereo panorama should be, plus, it can invert it or turn it into a mono signal. The DELAY helps set the delay time in either milliseconds or notes. The WARP provides a great deal of versatility when it comes to creating interesting textures as it changes the duration of the delay's early reflections – the higher the value, the more delay goes into reverb. Next, the FEEDBACK determines the length of each delay tail, while the DENSITY adds saturation across the panorama creating a more distorted yet audible sound in the mix. The MOD further adds width and clarity to early reflections by adding a chorus effect, whereas the EQ's low pass and high pass filter sections let you tailor the effect to your liking.
One of the finest Valhalla Supermassive VST's control features is MODE; it literally creates magic. Below I'll highlight my favorites (to hear all their beauty, turn the warp knob).
Hydra has double echoes with long decay. As a stereo delay, it's ideal for increasing an instrument's or vocal's width.
Sagittarius creates exciting pulsating textures thanks to slow attack and long reverb. It's a great special effect for electronic music if you apply a side chain from the kick.
Large Magellanic Cloud generates very long repetitions and a light rhythmic pulsation due to the medium attack. At high values of Density and Warp, this mode allows you to create literally clouds of sounds – a cool feature for the furthest vocal or pad layouts.
Cirrus Minor & Cirrus Major produce a fascinating delay effect with a great predelay, creating the mood you want. I love to listen to it in sparse, slow settings. Highly recommended, especially for vocals!
Scorpio brings a very interesting repetition thanks to randomized echo density and filtered decay. I often use this mode in sound design.
How does It sound in the mix?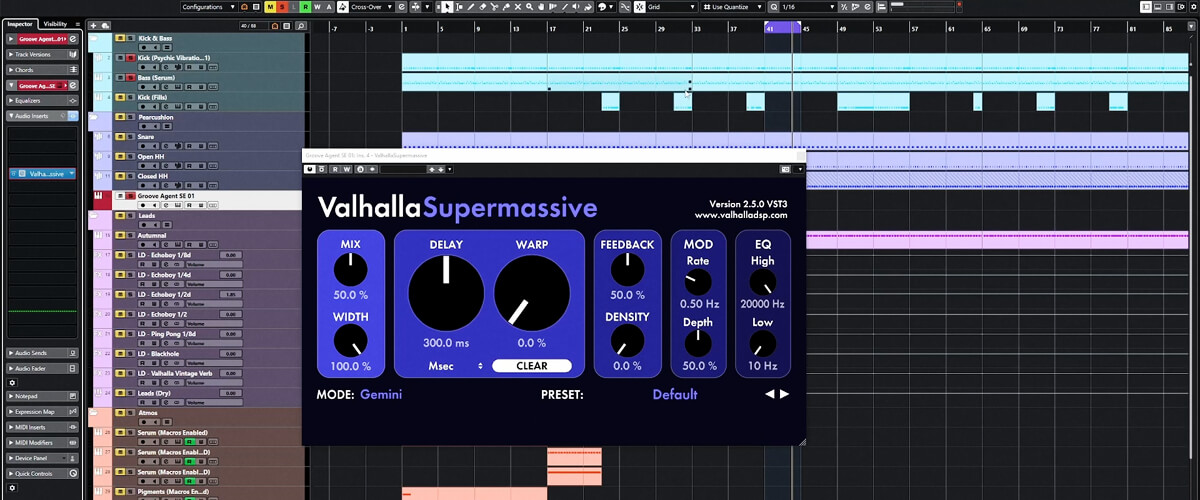 I have to admit that I've never used Supermassive as a simple delay because this task has much more effective solutions. But on the other hand, it's one of my favorite plugins for creating unique textures, sound design elements, and deep background vocals. As a result, I often use it in mixes with rarefied arrangements and unusual, deep textures.
Tech specifications
Formats: AAX, AU, VST, VST3.
Platform: Mac, Windows.
System requirements – Mac: macOS 10.12 or later, only 64 bit.
System requirements – Windows: Microsoft Windows 7 or later, only 64 bit.