I've decided to write my FabFilter Pro-R review because I really enjoy this instrument and consider it one of the most musical digital reverbs available on today's market.
Fabfilter plugins are known for their surgically precise processing and flexible controls. However, when developing the Pro-R, engineers have perfectly combined the musical parameters that we can add or subtract and signal post-processing control. This gives just awesome results!
So, without further ado, let's take a closer look at this VST and what it offers.
Main controls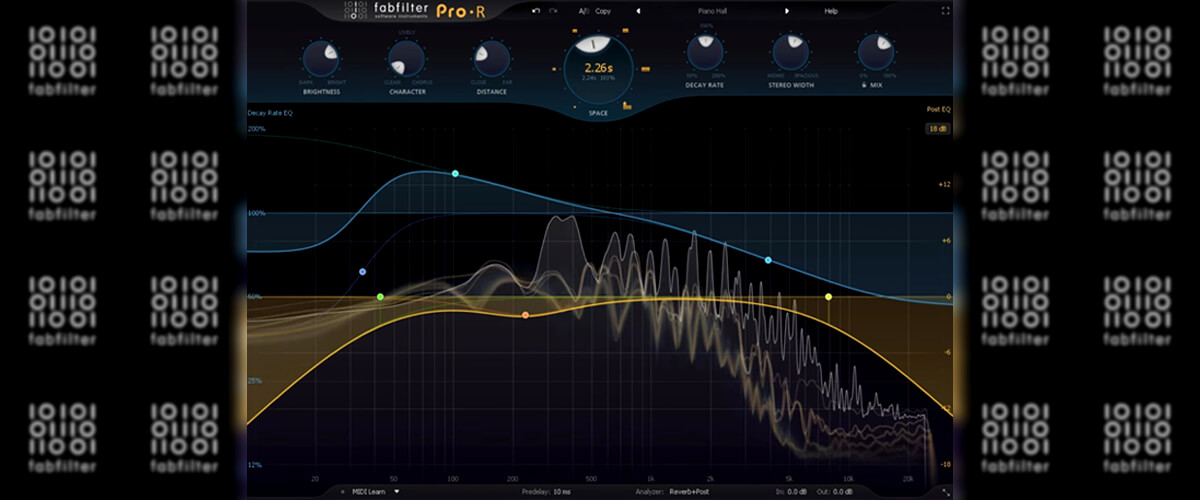 FabFilter Pro-R delivers an extensive set of controls that make it possible to create realistic and natural-sounding reverb for any instrument.
The Brightness control allows you to produce a brighter or darker reverb tail, making it easier to adjust the reverberation to suit different musical styles. The Character control can be used to add chorus-like modulation to the tail of the reverb, giving it more presence in the mix. The Distance regulator moves sound further away or closer to the listener by softening and blurring its late reflections, while the Decay Rate adjusts how quickly or slowly the reverb fades away. Next, the Space control changes not only the tail length but also the room's characteristics, which allows for a natural transition from little ambiance and rooms to larger spaces. However, I should note that the algorithm for switching to a specific space (e.g., Plate, Chamber, or Hall), which many people are used to, is absent here.
Another control I love is Stereo Width. It helps expand the sound and provides more space in the midrange for the foreground instruments, or on the contrary, narrows the sound to mono and pans it to your liking.
The Pro-R also features two EQ modules – Decay Rate EQ (Blue curve) and Parametric EQ (Yellow curve)- offering flexible equalization options. These EQs are modeled after the famous FabFilter Pro-Q 3 equalizer but don't include mid/side equalization capability.
Decay Rate EQ is a very flexible reverb tail curve. We increase the range of frequencies we want to fade longer and decrease the range we don't want to impact the mix. This allows us to estimate the spectrum we need, for example, for vocals. The Parametric EQ module enables further refinement of the output reverb signal. With this module, we can remove the low-frequency hum and a too bright top, creating a more natural yet deep space.
FabFilter Pro-R VST contains the Predelay function, which allows you to control not just the predelay size in milliseconds but also note length. When processing vocals, for example, this function is critical for separating a tail from the clean signal in order to avoid blurring the voice and losing it in the mix among other instruments.
And last but not least, there is a very useful MIDI learn feature. It allows you to assign plugin parameters to the MIDI controller's keys or regulators and generate unique automation effects.
How does It sound in the mix?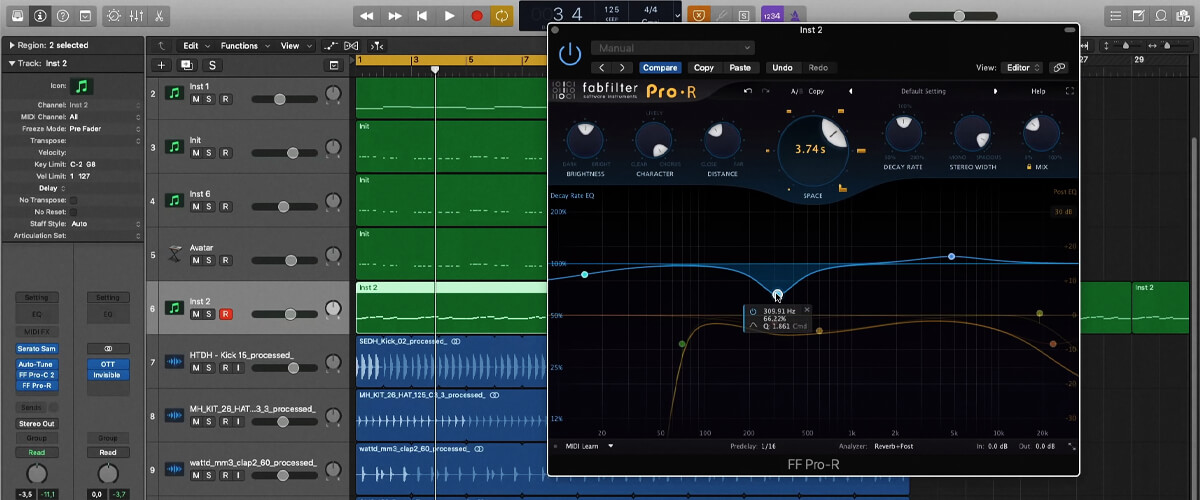 The non-standard controls allow us to focus on the sound because we listen to what we are doing. This has given me great results, especially on vocals, synthesizers, keyboards, and strings. I simply switched on the entire mix and, without thinking about the specific space, adjusted the musical reverb parameters until the vocal or instrument settled into the mix. Then I used the equalizer's flexible curves to fine-tune the sound to my liking. Following some practice, I realized that I don't spend hours searching for the right preset that imitates a particular space. I just move a few knobs, listen to what's going on, and get beautiful results.
One disadvantage of this reverb for me is that no matter how hard I tried, I could not create drum rooms akin to those in Addictive Drums or Steven Slate Drums. Overall, imitating small percussion rooms with FabFilter Pro-R is far from perfect. However, it's only my experience. You may do better and find the right preset for you.
In addition, I'd like to note that the plugin comes with a broad variety of presets that are organized thoughtfully based on the space size. For the most discerning audiophiles, there are also references to legendary instruments and software.
Tech specifications
Formats: AAX, AU, VST, VST3.
Platform: Mac, Windows.
System requirements – Mac: macOS 10.13 or later, only 64 bit.
System requirements – Windows: Microsoft Windows 7 or later, 32 or 64 bit.